Rae S. M. Yeung, MD, PhD, FRCPC
The Hospital for Sick Children (SickKids) and University of Toronto
Dr. Rae Yeung is a Professor of Paediatrics, Immunology, and Institute of Medical Science at the University of Toronto. At the Hospital for Sick Children (SickKids), Dr. Yeung holds the Hak-Ming and Deborah Chiu Chair in Translational Paediatric Research and is a Senior Scientist in Cell Biology and Scientific Director of its Biobank. Dr. Yeung's research aims to understand the mechanisms governing autoimmunity, specifically the mechanisms involved in initiating and sustaining the immune response. Dr. Yeung is leading both national and international efforts to understand the biologic basis for heterogeneity in childhood arthritis and rheumatic diseases towards personalized treatment decisions for affected children. She is the founding chair of CAPRI (Canadian Alliance of Paediatric Rheumatology Investigators) and UCAN (Understanding Childhood Arthritis Network), a translational research network collectively representing over 300 sites from 50 countries.
Susa Benseler, MD, PhD
Alberta Children's Hospital and Cumming School of Medicine, University of Calgary
Dr. Susa Benseler is a paediatric rheumatologist and a clinician investigator at the Alberta Children's Hospital. She serves as the Director of the Alberta Children's Hospital Research Institute ACHRI. Dr. Benseler is a Professor of Paediatrics at the Cumming School of Medicine, University of Calgary. She obtained her MD from the University of Freiburg, a PhD in Immunology from the University of Innsbruck and the University of Freiburg, and a Masters in Clinical Epidemiology from the University of Toronto.
Her research focuses on improving outcomes of children living with inflammatory diseases. Dr. Benseler has built an international researcher and care provider partnership for children with central nervous system (CNS) inflammation.  She established the first childhood CNS vasculitis and inflammatory brain disease clinic and research program and built BrainWorks, an international childhood CNS vasculitis investigator research and education framework. She is the past Chair of the Canadian Paediatric Rheumatology Investigator (CAPRI) Network.
Deborah Marshall
Deborah Marshall holds a Canada Research Chair, Health Services and Systems Research as a Professor at the University of Calgary and Arthur J.E. Child Chair of Rheumatology Outcomes Research in the McCaig Institute of Bone and Joint Health. She is the Director of Health Technology Assessment at the Alberta Bone and Joint Health Institute, a Senior Scientist at Arthritis Research Canada, and a member of the O'Brien Institute of Public Health.
She has experience in technology assessment agencies, academia and pharmaceutical and diagnostics industry research settings in Canada, the United States, and Europe. Her health technology assessment and health services research program focuses on patient preferences and patient engagement research, cost-effectiveness analysis, and simulation modeling of health services delivery to improve the effectiveness and efficiency of health care services in the context of precision medicine.
Dr. Marshall is an active member of the International Society for Pharmacoeconomics and Outcomes Research (ISPOR) as the Past President of the Board of Directors and various Task Forces, and a member Board of Directors for Health Technology Assessment International (HTAi).
Joseph Cafazzo
Dr. Joseph Cafazzo is Lead for the Centre for Global eHealth Innovation, University Health Network, a state-of-the-art research facility devoted to the evaluation and design of healthcare technology, hosting seventy researchers and staff.
As a biomedical engineer, he has spent his entire career in a hospital setting. By observing healthcare delivery from the inside, he works on ways to keep people out of hospital by creating technologies that allow for self-care at home. At the same time, Joe and his team are the biggest critics of poorly designed health technologies and their ineffectiveness. He surrounds himself with whip-smart, and passionate engineers and designers who are creating technologies that are spirited, modern, people-focused, and truly improve the patient experience.
He is an Associate Professor at the University of Toronto, in the areas of clinical engineering, human factors, and health informatics and is the recipient of the Career Scientist award by the Ontario Ministry of Health and Long Term Care.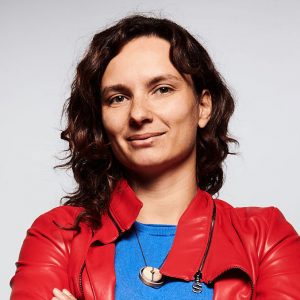 Anna Goldenberg, PhD
The Hospital for Sick Children (SickKids) and University of Toronto
Toronto, ON, Canada
Dr. Anna Goldenberg is a Scientist in the Genetics and Genome Biology Program at the SickKids Research Institute, an Assistant Professor in the Department of Computer Science at the University of Toronto, and a fellow at the Canadian Institute for Advanced Research (CIFAR), Child and Brain Development Group. Dr. Goldenberg trained in machine learning and statistics at Carnegie Mellon University in Pennsylvania, with a post-doctoral focus in computational biology and medicine. She is an expert in developing machine learning approaches for biological data, network methods and most recently, data integration of omics profiles and clinical data. The current focus of her lab is on developing methods that capture heterogeneity and identify disease mechanisms in complex human diseases. Her translational focus is on methods that efficiently combine many types of patient measurements to refine diagnosis, improve prognosis and personalize drug response prediction for cancer patients. She was recently awarded an Early Researcher Award from the Ministry of Research and Innovation.